Anaheim April 4 - April 11, 2017
About Anaheim
Star Princess
April 4 - April 11, 2017
Pricing/Accommodation:
Inside - from CA$689
Outside (Obst) - from CA$709
Oceanview - from CA$769
Balcony - from CA$829
Mini Suite - from CA$939
Taxes extra CA$380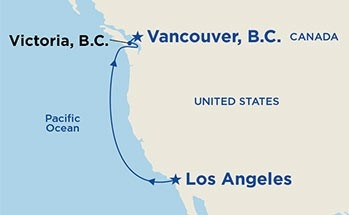 Rates are per person (Dbl) and include Airfare to Los Angeles, transfer to the hotel in Anaheim, 3 nights accommodation at The Clarion Anaheim (Standard Room), transfer to the pier and the 4 night cruise back to Vancouver.
Special Offers:
3rd & 4th person sharing - from CA$219
Upgrade to Studio Suite - $45 pp
Itinerary:
3 nights Anaheim & 4 nights cruising

Terms, conditions and restrictions apply; pricing, availability, and other details subject to change and/ or apply to US or Canadian residents. Please confirm details and booking information with your travel advisor.